Byggarbetsmiljö BAS-P/BAS-U
Building work environment coordination BAS P/U | Online
Learn how the work environment should be managed to keep your workplace safe and prevent accidents and illnesses.
About the course

Detta är en BAS kurs på engelska.
The Swedish Work Environment Authority has established requirements that must be met by those who wish to work as a building work environment coordinator (BAS). These requirements encompass both education and the ability to demonstrate competence. Our course is designed, based on these requirements and offers a two-day foundational course for BAS that can be completed directly in your web browser. By participating in this course, you will learn how to effectively manage the work environment to ensure a safe workplace and prevent accidents and illnesses.
Upon successfully completing the course and achieving a passing grade, you will receive a certificate confirming your documented knowledge as a Building work environment coordinator for both BAS-U and BAS-P.
The course is rich in useful resources, including checklists, templates, and documents that you can download and use both during and after the course. Additionally, you will have access to all course information in our portal for a full 12 months.
Book the course and get started to take your first steps towards becoming a qualified Building work environment coordinator!
You will learn
How to promote a safer work environment
How the regulatory framework and occupational safety responsibilities operate
Practical approaches in the role of a Building Work Environment Coordinator (BAS)
Suitable for you if
You will be a Building Work Environment Coordinator in the design phase (BAS-P) or construction phase (BAS-U)
Have overall responsibility for occupational safety
Have limited opportunity to attend the course in a classroom setting
Content
Part 1: News and Statistics, Roles and Responsibilities, Structure of Regulations, and Criminal Law
Part 2: Systematic Occupational Health and Safety Work
Part 3: The Building Work Environment Coordinator Role
Part 4: Building Work Environment Coordinator P in Practice
Part 5: Building Work Environment Coordinator U in Practice
Part 6: Occupational Health and Safety Plan for Building Work Environment Coordinator P and Building Work Environment Coordinator U
Part 7: Introduction to Regulations and Risks
Part 8: Workplace Design
Part 9: Strain and Ergonomics
Part 10: Chemical Occupational Health Risks
Part 11: Selected Regulations
Part 12: Hand in assignment
Part 13: Knowledge Test, Conclusion, and Course Certificate
Target Audience
Future Building Work Environment Coordinators (BAS-P and BAS-U).
Designers, consultants, construction supervisors, and more.
Site managers and foremen.
Quality, environmental, and occupational health and safety coordinators.
Anyone who needs to provide information to Building Work Environment Coordinators.
Anyone who needs to provide data to Building Work Environment Coordinators in accordance with regulations and agreements between the client, contractor, and subcontractor.
Other stakeholders in the construction process, such as clients or developers.
Register at ID06
Upon successful completion of the course, we can register you free of charge in the ID06* competence database
*ID06 is a Swedish identification and access control system used in the construction industry to verify the identity and authorization of workers at construction sites
Online - How It Works
Once you have registered, you will receive a invite to SIFUs course portal. You will then have access to the training for 1 year.
You can proceed at your own pace and complete it on your computer, mobile phone, or tablet from anywhere. The course includes knowledge checks and various exercises related to Building Work Environment Coordinators in different phases. Throughout the course, you have free access to your course instructor.
Please feel free to contact us if you have any questions.
Instructor
Magnus Brile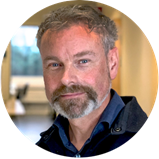 Magnus Brile has been conducting training at SIFU for many years, including construction site safety coordination at both the basic and advanced levels. With extensive experience in the fields of building construction and infrastructure, he currently works at LUCO as a specialist advisor, final inspection officer, BAS-P, and more.
Book your course
Building work environment coordination BAS P/U | Online
Valfritt 2499 -2500

Lärarledd online - starta direkt

Platser kvar